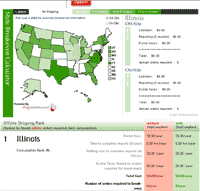 After showing off beta versions of this tool at several trade shows in January, the ShipCompliant team officially released its latest tool today to help wineries make the most of the direct channel. The State Shipping Break Even Calculator does just that – it tells you how many bottles of your wine it takes to cover the cost of navigating the compliance hurdles in each state.
This free tool is meant to help all wineries create a meaningful strategy for direct shipping. The concept of an "easy state" is now all but obsolete. Instead, choose your direct shipping states based on existing customer interest, level of wine consumption and finally, cost of acquisition. Many of our beta testers were pleasantly surprised about just how much of the US is affordable for a burgeoning direct shipping program.
Don't forget about our other free tools: Tasting Room Map Tool & Volume Converter. And of course, consider checking out a demo of the full version ShipCompliant!
We're anxious to hear your thoughts on these initiatives, so be sure to leave a comment on this blog, or via the "Send us feedback" links on the tools page. There is also a handy, "Share this tool with a friend" link on each tool page.